Finding a bunch of sexy cars is a simple chore. But finding a handful of sexy trucks is much tougher. Trucks are meant to haul, tow, work, or play in the mud. And for the most part, the only difference between truck models are the engine size, drive train configuration, cab size, and bed length.
Sure, you can add running boards or a chrome grill. But those accessories are not enough to make a truck sexy. So then, what makes a truck sexy? Is it a hugely powerful engine? Are dully trucks or Heavy Duty trucks the sexiest? Which makes your heart grow fonder; a truck with an off-road package or one with a street stance? Thankfully there are a few pickup companies that provide some cool and sexy truck models. This Top 10 Best Sexy Trucks for 2023 has a nice assortment of great rides!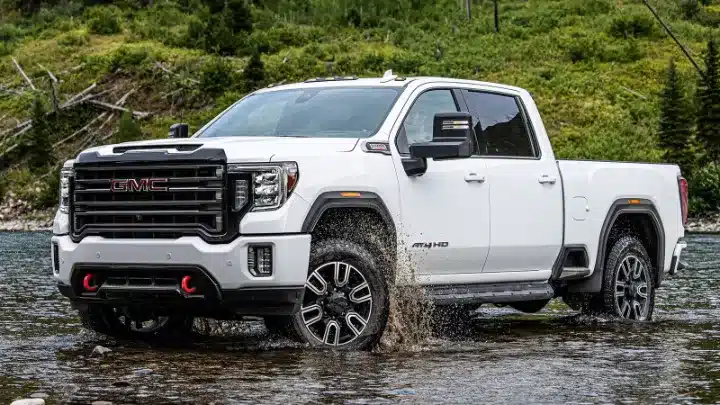 List of 10 Best Sexy Trucks Reviews
2019 Ram 3500 Big Horn
The 2019 Ram 3500 is a man's truck. Oh, and it makes 1000 lb-ft of torque from a 6-cylinder engine! While personally not a fan of the dual configuration, there is no denying that the Ram 3500 is quite sexy. But on a great platform and packed with tons of history, the current line-up of Ram trucks not only looks fantastic, but they perform well too. What makes the Ram 3500 sexy?
It is the Big Rig styling that includes an in-your-face chrome grill and tons of chrome. Under the hood lurks a 6.7 liter Inline 6 cylinder Cummins Turbo Diesel engine that makes 410 horsepower and 1000 lb-ft. Of torque. All this from a 6-cylinder engine that weighs less and gets better MPG than its competition? That my friends are super sexy.
Cadillac Escalade EXT
Say what? Cadillac makes a truck. Well, take an Escalade and cut the back half off, and you have the Cadillac EXT. Stands for the extended truck. Super luxury is sexy, so. Therefore, most Cadillac cars are sexy. But the Cadillac Escalade EXT looks pretty good, too, especially if you slap on some 22-inch DUBs. The Escalade EXT is all blinged out with chrome but on the inside; the truck is super sexy and suave with a nice interior.
2018 Toyota Tundra 1794 Edition
The 2018 Toyota Tundra is a great all-around truck that looks pretty sexy too. The Tundra is powered by a 5.7 liter V-8 engine that pushes out a whopping 381 horsepower and 401 lb-ft of torque. The Tundra is a great pickup truck for towing, and it can run from 0-60 MPH in the 7-second range. The Tundra is probably the best that Japan has to offer if you are looking for a sexy and reliable V-8 truck to battle against America's big 3. The Tundra is a fill-size half-ton truck that can be configured in a ton of different ways.
2019 GMC Sierra 2500 HD
The 2019 GMC Sierra 2500 HD is closer to the Escalade in terms of truck duties, but it does look a lot sexier. Everything about the exterior of the Sierra 2500HD looks tough. The chrome grills and squared-off headlights combined with the chrome grill and fog lights in the air damn are just the perfect amounts of style up front.
The Sierra features a ton of chrome, including big chrome rims, chrome running boards, and chrome door handles. Opting for the black exterior paint and the quad cab is the best overall look for the GMC. The hood line is sharp, and all these items mentioned above add up to give the 2019 GMC Sierra 2500 HD one of the sexiest appearances out there. The truck is powered by a 6.0 liter V-8 engine producing 360 horsepower and 380 lb-ft of torque.
2020 Chevrolet Silverado 3500 HD LT
The 2020 Chevrolet Silverado 3500 HD LT is the largest truck offered by Chevrolet. With a base price of $30,000 and a top-of-the-line price of $46,000, it is also the most expensive. But what does all that cash buy you? First off, the Silverado 3500HD can tow up to 20,000 lbs. Power comes on via a 6.6 liter Duramax Diesel V-8 that makes 401 horsepower and 910 lb-ft. Of torque. That there is one sexy towing truck.
Chevrolet did everything in its power to make the Silverado 3500HD tough. The frame is boxed and made from stronger steel. Both the front and rear suspensions have been beefed up to handle the added stress loads. When you see a 2020 Chevy Silverado 3500HD rolling down the road towing something enormous, you cannot help but think it's one sexy truck.
2019 Nissan Titan PRO-4X
For the 2019 model year, you can purchase a Sport Appearance Package for the Nissan Titan. This package adds sexy parts like 20-inch alloys and blacked-out body parts, including the grill and step rails. On the inside, the theme is continued with accented seats and interior pieces. The Titan is powered by a 5.6 liter V-8 engine that makes 390 horsepower and 394 lb-ft of torque.
2020 Toyota Tacoma
Unfortunately, gone is the high-performance V-6 engine which has been replaced by a pitiful 3.5 liter V- engine that only makes 278 horsepower and 265 lb-ft of torque. Thankfully TRD has a supercharger that will get you over the 300 horsepower mark. The Toyota Tacoma already looks sexy with its lowered profile and big ground effect kit. But the TRD Sport Package adds great parts like a Bilstein Sport-tuned suspension, 17-inch alloy rims, color-matched body parts, TRD graphics, and a whole slew of interior components. The Toyota Tacoma is one of the sexiest sports trucks on the market today.
2020 Ford F-150 King Ranch
The newly redesigned 2020 Ford F-150 King Ranch edition combines a sexy new look with some awesome features. Maybe the best part of the new 2020 Ford F-150 King Ranch is the fact it shares the same high-performance 395 horsepower engine as the Raptor SVT.
On the outside, the F-150 King Ranch sports a ton of cool parts. The chrome billet grille is most noticeable. The lower grille on the air dam has been blacked-out, and so have both the front and rear light housings.
There are some trick King Ranch Graphics on the body of the F-150. The hood looks sporty, and the paint choices are Tuxedo Black or Platinum White Metallic. Both are spectacular and sexy. On the inside, the F-150 King Ranch is packed with tons of technology as well as trick-brushed aluminum trim.
Ram 1500R/T
There is just something about the Ram 1500 R/T that gets my blood going. This pickup is the sexiest truck for 2020 because it looks good from any angle, and there is not one problem I can see with the look of this vehicle. Every part of the body is color matched, providing a clean and sleek look. The hood has a mean bulge with air inlets that let you know this truck is all business.
The rims are huge 22-inch forged and polished wheels which just add to the overall sexiness of the Ram 1500 R/T. The base price of the 2012 Ram 1500 R/T. The truck comes with a 5.7 liter V-8 HEMI engine that cranks out 390 horsepower and 407 lb-ft. Of torque through a 6-speed automatic transmission. The Ram 1500 R/T also rocks 4.10 gears which helps it to accelerate from 0-60 MPG in 6.1 seconds, making it one of the fastest stock production trucks. That is sexy!
Ford F-150 Raptor
The Ford F-150 Raptor is one of the sexiest trucks in person. In print advertising, the truck looks over the top with all the graphics and black urethane body parts. And some of the interior colors are a little bit too in your face. Think bright orange everywhere. But the blacked-out Raptor is so damn sexy!
The Raptor sports the Pre-Runner look with 7 extra inches of width added along with a lift of 11 inches to help with suspension travel. Fox Racing Shox also provides internal triple-bypass shocks to handle rough terrain. The suspension is made of durable, lightweight aluminum parts. Top that all off with a high-performance 6.2 liter V-8 engine that makes 411 horsepower and 434 lb-ft. Of torque, and you have one sexy off-road truck.