Finding the right RV for your needs can be a daunting task, especially when it comes to fuel efficiency. With so many different models and styles available today, how do you know which one will provide you with maximum efficiency? Fortunately, several options offer excellent fuel economy without sacrificing comfort or convenience. In this article, we'll take an in-depth look at some of the most fuel efficient RVs currently available to help make your search easier.
We'll discuss features such as engine size and type, exterior design elements, interior layout options, and more – all to maximize your RV's potential for saving money on gas costs over time. So if you're looking for a reliable yet affordable way to enjoy RV life on the open road without breaking the bank at every stop, read on!
The Most Fuel Efficient RV – Overview
How much the average MPG does an RV have?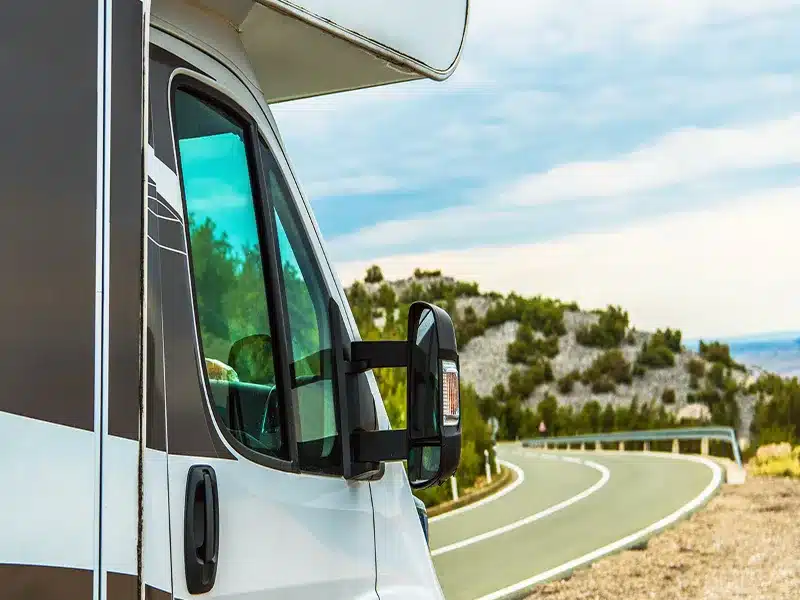 Regarding fuel efficiency, RV mileage per gallon (MPG) varies depending on Class, length, and weight. If you're after fuel economy, Class B RVs and camper vans are your best bet, boasting an MPG range of 18 to 25 miles.
But if you need a larger living space, don't despair – Class C motorhomes have an average fuel economy of 14 to 18 mpg. However, if you opt for a Class A coach, be prepared for lower fuel efficiency, which averages between 7 and 13 MPG.
Remember that shorter and lighter RVs tend to be more fuel efficient, so choose your rig accordingly to make the most of your fuel economy.
Which factor does affect the RV's fuel efficiency?
Terrain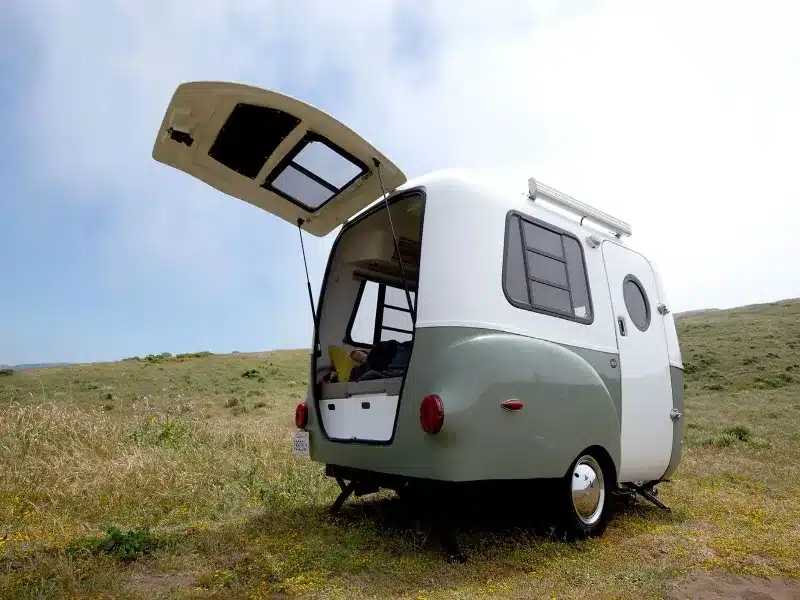 The terrain can significantly affect your RV's fuel efficiency. Driving on hilly and mountainous roads greatly strains an engine, requiring more fuel to power the vehicle up and over these terrains.
If you drive through these roads frequently, investing in a more fuel efficient RV is important to get the most out of each gas tank.
Additionally, driving on flat terrain at higher speeds requires more power from the engine than at lower speeds, resulting in reduced fuel efficiency. Choosing routes with fewer hills and keeping your speed limit moderate can help increase your RV's mileage per gallon.
Wind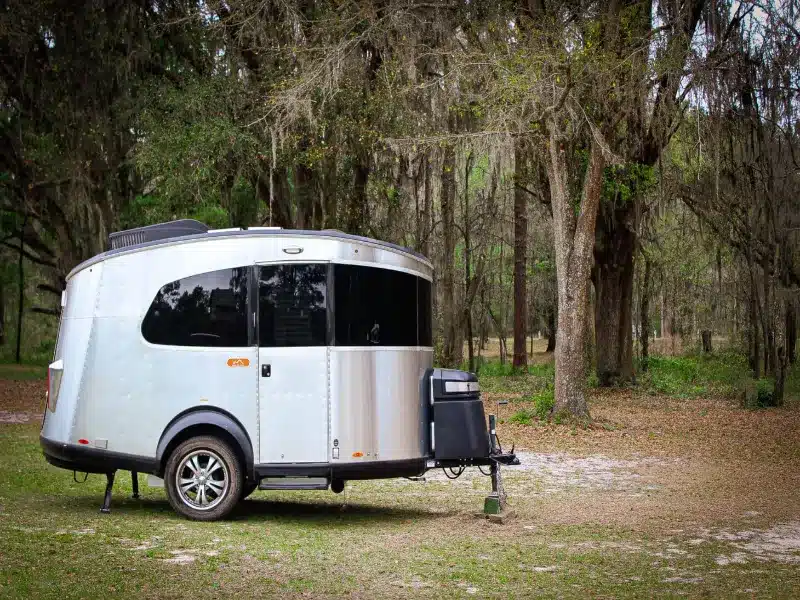 Wind can affect the RV's fuel efficiency in several ways. The most direct impact comes from an increased drag on the vehicle, which increases its resistance to forward motion and thus lowers fuel economy.
This effect is particularly pronounced at higher speeds when wind speed begins to match or exceed that of the RV itself.
Additionally, gusty winds can be dangerous for tall RVs and cause them to sway more than usual, which may lead to increased fuel consumption due to loss of control or out-of-control steering corrections from the driver.
Finally, strong crosswinds can push the RV off course slightly or cause it to drift, again leading to a decrease in fuel economy from undesirable maneuvers and deviations from optimal route planning.
Driving habits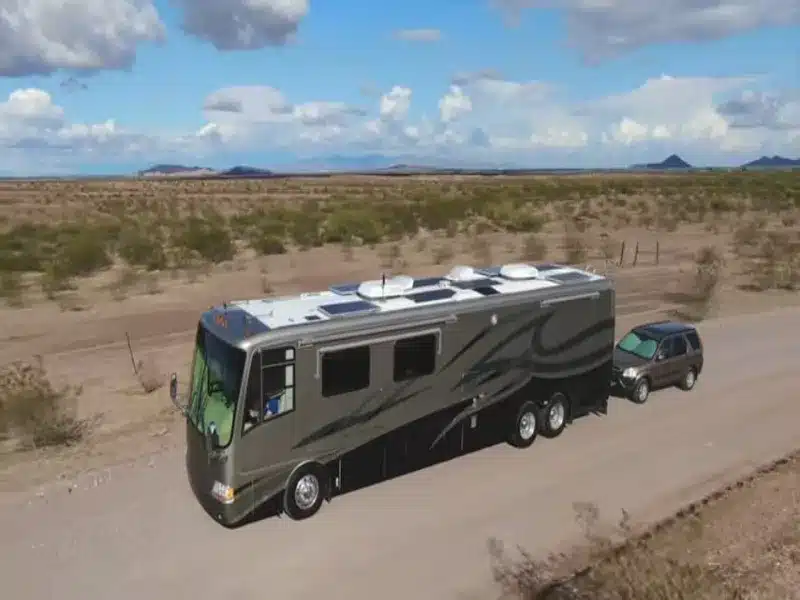 Driving habits have a big impact on the fuel efficiency of an RV. Drivers should practice defensive driving techniques such as avoiding hard acceleration, braking and cornering, maintaining a steady speed, and utilizing cruise control when available.
The heavier the load on board, the less fuel efficient an RV becomes. Therefore, carrying necessary items and securing them properly to reduce the drag created while driving is important.
Additionally, high wind resistance can significantly reduce fuel efficiency; by keeping windows closed and removing roof-mounted luggage racks or bike mounts that might increase air resistance when traveling at higher speeds, drivers can help improve their RV's overall aerodynamics.
Fuel choice
The type of fuel used in an RV can affect its fuel efficiency. Gasoline-powered RVs are less efficient than diesel due to their weight and lower energy density.
Additionally, they may require frequent fueling stops during road trips, increasing costs over the long run. Diesel-powered RVs offer more consistent performance and provide better fuel economy when traveling long distances, making them highly suitable for road trips and vacations.
Furthermore, small diesel-powered RV engines also require less maintenance over time than gasoline engines. All these factors contribute to them being more cost-effective in the long run as compared with gasoline models.
A secondary vehicle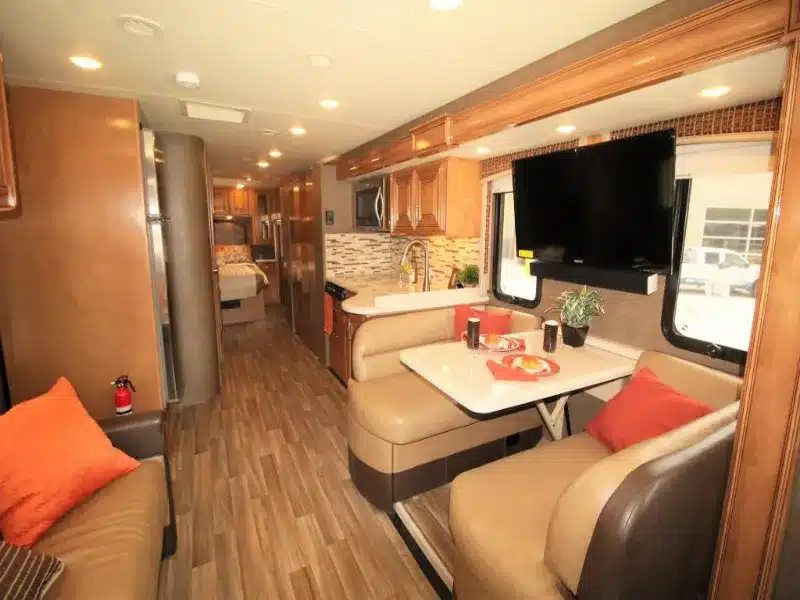 Towing a secondary vehicle behind an RV can significantly impact its overall fuel efficiency. The vehicle being towed adds to the total weight of the RV, increasing drag on the engine and making it work harder to move forward.
Furthermore, air resistance increases when 2 vehicles are attached instead of just one, thus reducing the RV's fuel efficiency.
Therefore, if you plan to tow another vehicle behind your RV for long distances and over extended periods, consider renting or getting an alternative form of transportation for your secondary car to maximize your RV's fuel efficiency.
The cumulative amount of weight loaded into your RV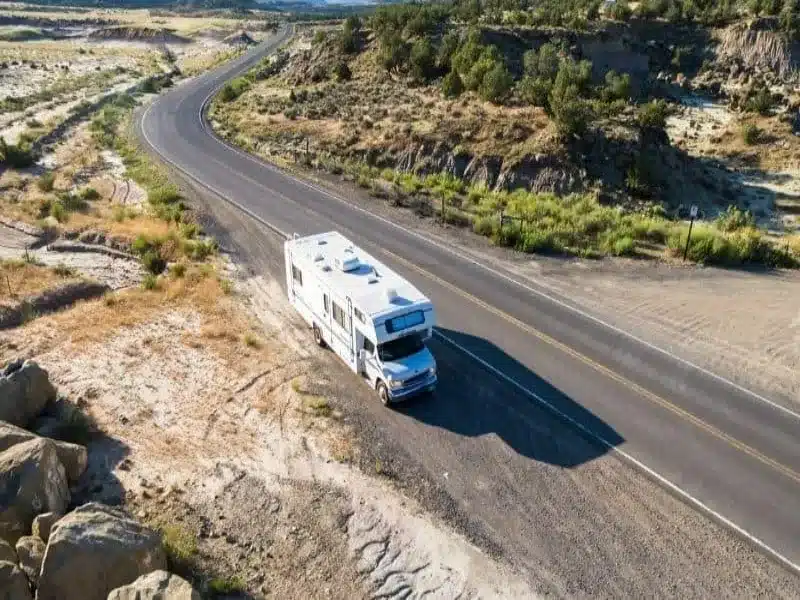 The cumulative weight loaded into an RV significantly impacts its fuel efficiency. Having additional items and cargo adds to the overall weight of the RV, reducing the miles per gallon (MPG) it can achieve.
The heavier the load, the lower your MPG rating will be, which means you will use more fuel to maintain a certain speed.
Moreover, having extra weight in your RV puts added stress on its components, such as brakes, tires, and suspension systems which can also lead to decreased fuel economy if they need to be fixed or need regular maintenance.
Ultimately, keeping your RV's load light and within its recommended capacity is one of the best ways to maximize its fuel efficiency over time.
The Most Fuel Efficient RV – Top Choices For Your Next Trip
The most fuel efficient RV Class A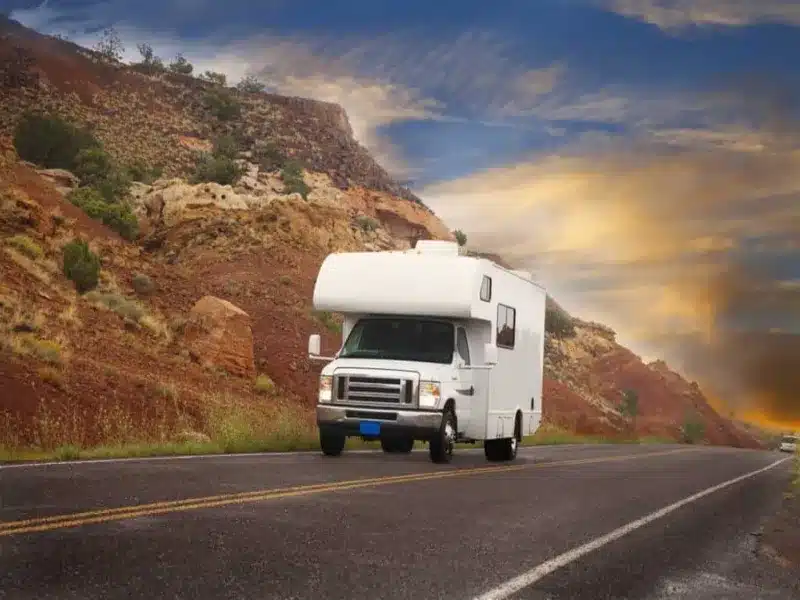 Regarding fuel efficiency, there may be better choices than Class A RVs. However, some Class A motorhomes stand out from the rest with a fuel economy of 8 MPG or higher.
These options may not reach smaller RV classes' fuel efficiency but offer more luxury and space. Look at some of the most fuel-efficient Class A RVs currently available.
Thor Palazzo 33.5
The Thor Palazzo 33.5 Class A diesel pusher is an excellent choice if you are in the market for a fuel-efficient RV. With an average of 10 to 12 miles per gallon, it is among the most fuel-efficient RVs on the market today.
One of the great things about the Palazzo is its spacious sleeping capacity and ample storage inside and underneath. This makes it ideal for large families and multi-family outings.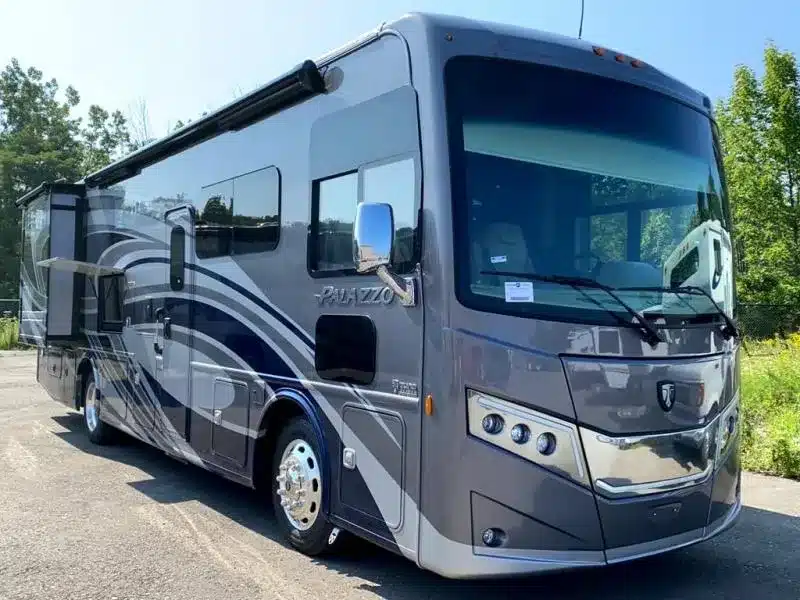 But the Palazzo isn't just practical; it's also luxurious. It has an I-beam front axle, Sachs shock absorbers, and Air Ride suspension that helps improve stability, handling, and passenger comfort.
It's also well-equipped for longer trips. With a 95-gallon freshwater tank capacity, 105-gallon propane tank capacity, and 40-gallon blackwater and greywater tanks.
Overall, the Thor Palazzo 33.5 perfectly blends functionality and luxury. It's fuel-efficient, spacious, and packed with features that make it an excellent choice for families who love to travel.
Forest River Berkshire 34B
Looking for an RV that is fuel-efficient, powerful, and comfortable? Look no further than the Forest River Berkshire. This RV is built with a 360-horsepower Cummins turbo diesel engine, allowing it to get between 9 and 12 miles per gallon.
But that's not all – it also features a Freightliner XCR Raised Rail chassis and a six-speed Allison transmission, ensuring safe and easy navigation through steep mountain terrain.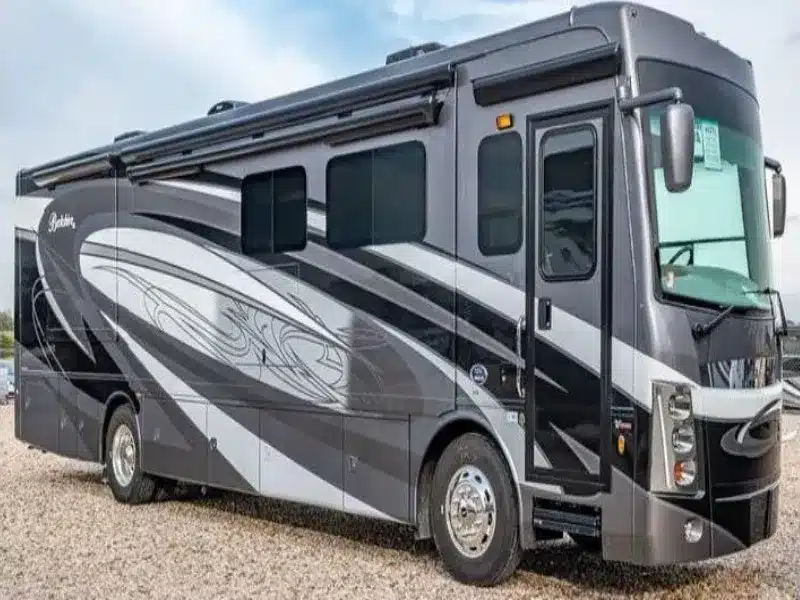 New updates to the 2021 Forest River Berkshire include a full wall slide on the passenger side, allowing for even more space inside the RV. The exterior awning has also been increased from 12.8 feet to 18 feet, providing a larger covered area for outdoor activities.
Additional upgrades include:
A workstation table near the passenger seat.
More grab handles in the entryway.
A new central vacuum system.
An induction cooktop in the kitchen.
The Forest River Berkshire also has advanced technology, including a ten-inch dash screen with color backup and side-view cameras. This makes parking and navigating in tight campgrounds a breeze.
Overall, the Forest River Berkshire is a top choice for those looking for a fuel-efficient RV that can handle power, comfort, and convenience. With its various upgrades and advanced technology, it's clear that Forest River is committed to providing the best possible experience for its customers.
Newmar Dutch Star 3709
The Newmar Dutch Star epitomizes luxury diesel pusher class A RVs. Despite being the heaviest and longest RV on our list, it still manages an impressive 8 to 11 miles per gallon.
This fuel-efficiency performance is a testament to the exceptional design and engineering that goes into this vehicle. It makes it an ideal option for retired couples looking to live in their RV full-time.
The Newmar Dutch Star offers the ultimate interior comfort and luxurious amenities, including a residential-style living experience. Investing in a half-million-dollar RV should ensure your safety on the road, and this RV does not disappoint.
With features like electronic stability control, tire pressure monitoring, automatic traction control, and Newmar's innovative Comfort Drive steering technology, you can be assured of a safe journey between destinations.
The Newmar Dutch Star is a testament to what is possible when advanced technology meets design and luxury. This RV is not only fuel-efficient, but it also delivers exceptional driving dynamics and ride comfort. It is the perfect option for those who desire an ultimate luxury driving and living experience.
Holiday Rambler Navigator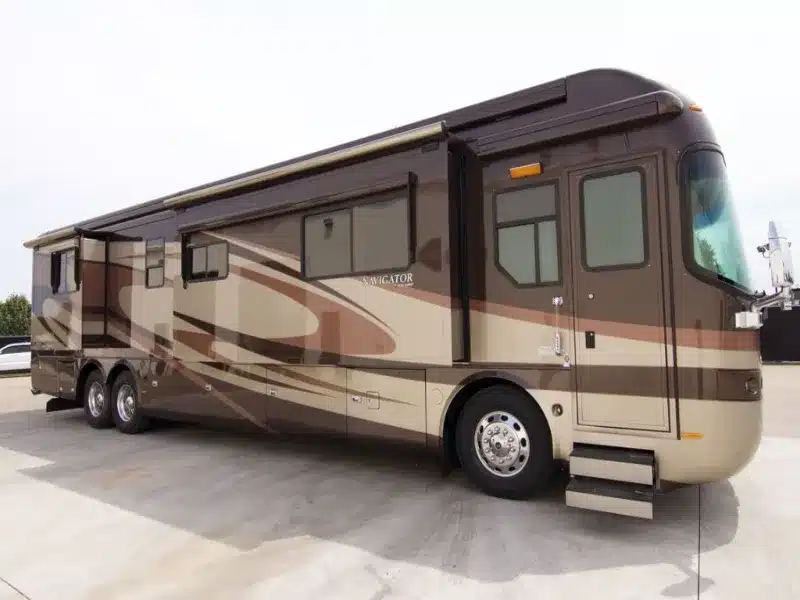 The Holiday Rambler Navigator epitomizes energy efficiency, perfecting it for long journeys and vacations. With a fuel economy of up to 10.6 miles per gallon, this motorhome is practical and fun to drive.
It has a luxurious interior with a king bed, a fully accessorized kitchen with appliances, and a cozy fireplace. The Holiday Rambler Navigator is a perfect combination of functionality and style, making it the best choice for all travel enthusiasts.
The most fuel efficient RV Class B
If you're looking for a fuel-efficient RV, your best bet is a Class B model. These versatile camper vans offer the best fuel economy among all RV types today. You'll find that some Class B RVs can achieve over 17 miles per gallon, making them the perfect choice for eco-conscious travelers.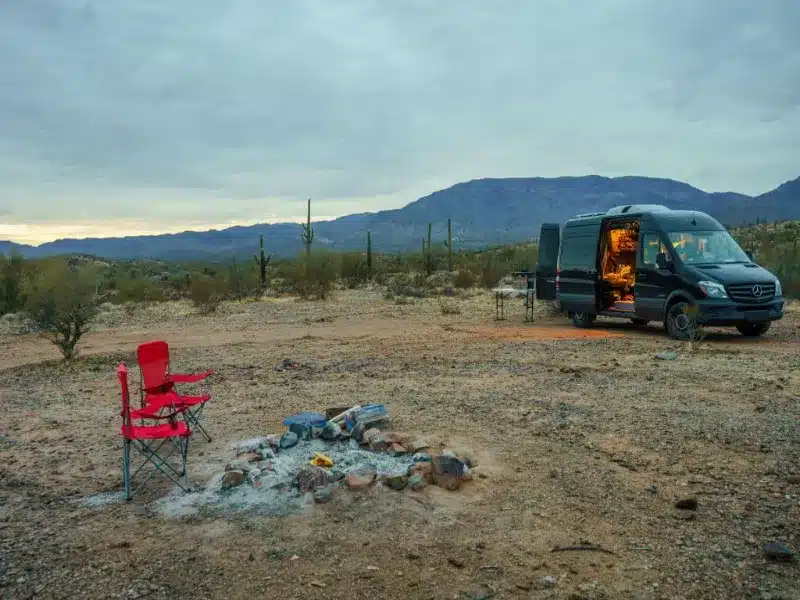 RoadTrek Zion
If you are looking for a fuel-efficient RV that can accommodate more than two sleepers, the RoadTrek Zion camper van might be the one for you. This class B RV is built on a Ram ProMaster chassis and boasts 17 miles per gallon fuel efficiency.
One of the standout features of this rig is its optional folding mattress, which makes it a great choice for growing families or couples who want to bring their furry friends along.
The open-concept floor plan that RoadTrek is known for allows for easy customization, so you can store all your outdoor gear while still having enough room to relax and sleep.
Another great thing about the RoadTrek Zion is its standard boondocking features. It has 330 watts of solar, an outdoor shower, a retractable electric awning, and a spacious 5-cubic-foot refrigerator in the galley.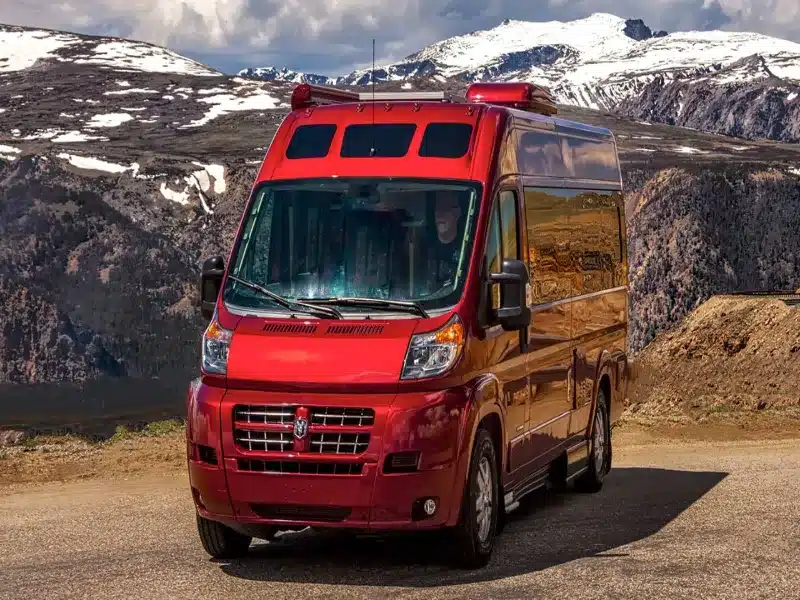 And, with an automatic propane heating system and an 11,000 BTU roof-mounted air conditioning unit, you can stay comfortable no matter the weather.
But what sets this RV apart is its rear area, which easily transforms from a sofa with 2 twin beds to a king-sized bed on a powered system requiring minimal switching effort. This feature provides maximum versatility and makes creating the perfect sleeping arrangement for your needs easy.
In summary, if you want a fuel-efficient RV that can accommodate a small family or group of friends, the RoadTrek Zion is worth considering.
Its customizable open floor plan, boondocking features, and versatile sleeping arrangements make it an excellent choice for adventure seekers who want to hit the road in comfort and style.
Airstream Interstate 19
Looking for a fuel-efficient RV that provides both comfort and luxury on the road? Look no further than Airstream's Interstate 19, the newest addition to their touring coaches.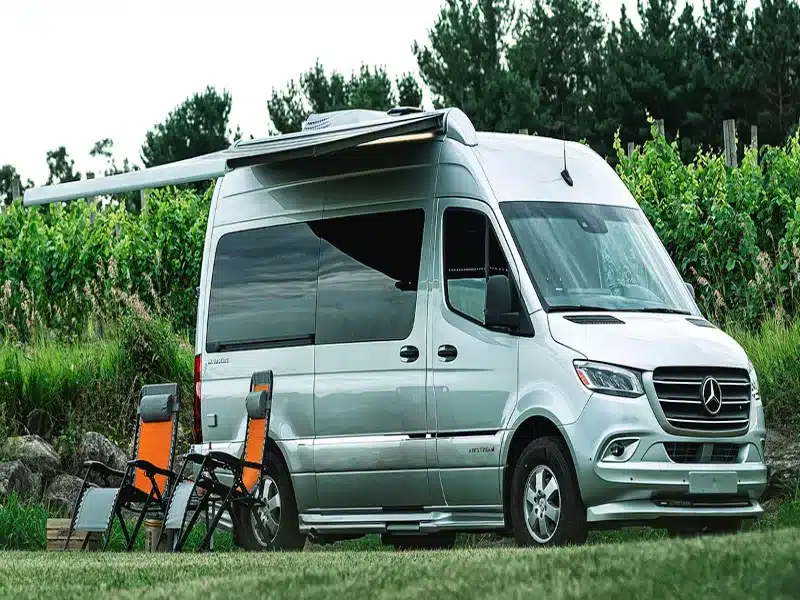 With an average of 18 miles per gallon on the highway, this class B RV is perfect for couples or solo travelers who want to explore the great outdoors without sacrificing convenience and style.
One of the standout features of Interstate 19 is its spacious and comfortable bed, which is the largest in the industry. And with the Truma furnace and water heater, you can enjoy unlimited hot water for all your needs, whether it's washing dishes or taking a relaxing shower.
Another great aspect of Interstate 19 is its safety features, thanks to Airstream's partnership with Mercedes-Benz.
With rear and side-view cameras and a Parktronic parking assist system, you'll enjoy peace of mind, which helps you easily navigate even the trickiest parking spots.
So if you're looking for an RV that combines fuel efficiency, comfort, and luxury in one package, the Interstate 19 from Airstream is worth considering.
Whether you're planning a weekend getaway or a longer road trip, this innovative and stylish camper van will help you create unforgettable memories on the road.
Winnebago Travato 59G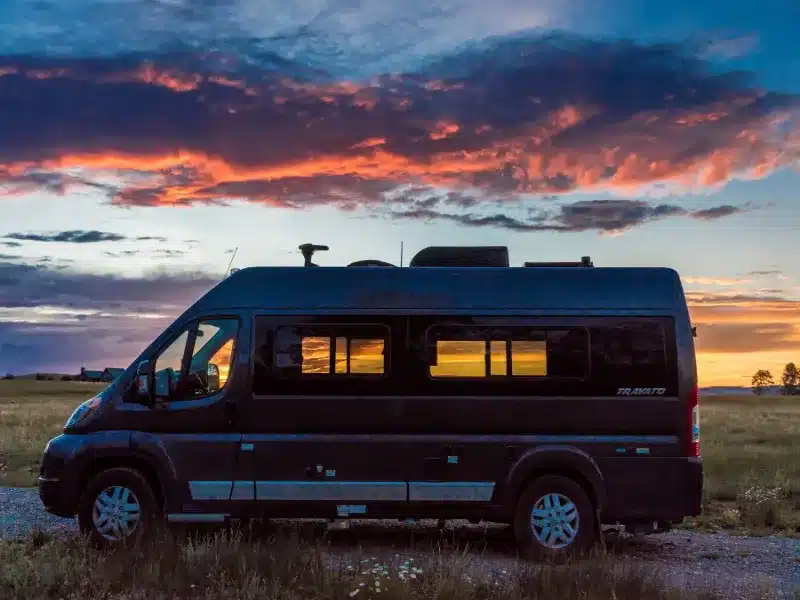 The Winnebago Travato has earned a reputation as the most fuel efficient RV in its Class, among other RVs. It can travel up to 20 miles per gallon, making it the obvious choice for anyone conscious about saving money on fuel.
But that's not all – this class B coach also features the innovative Pure3 Advanced Energy Management System, contributing to its status as the best-selling camper van in the United States.
One of the benefits of the energy management system is its ability to store enough power to provide up to 9,600 watt-hours of energy to your interior appliances. This means you can take extended dry camping trips without worrying about running out of energy.
And if you desire even more power storage, you can opt for the energy pack that consists of four modules and stores up to 12,800 watt-hours.
Moreover, the Travato is built to withstand four-season travel with several amenities that enhance your dry camping experience. These include a heating system for the holding tanks, insulated dual-pane windows, and walls that can resist cold weather.
To top it all off, the Eco-Hot water system delivers hot water on an on-demand basis, meaning you will enjoy a comfortable shower anytime.
The Travato is undoubtedly the right fit for anyone looking to travel assertively with low fuel consumption, high energy efficiency, and ample conveniences for off-grid camping.
Roadtrek Sprinter RS Adventurous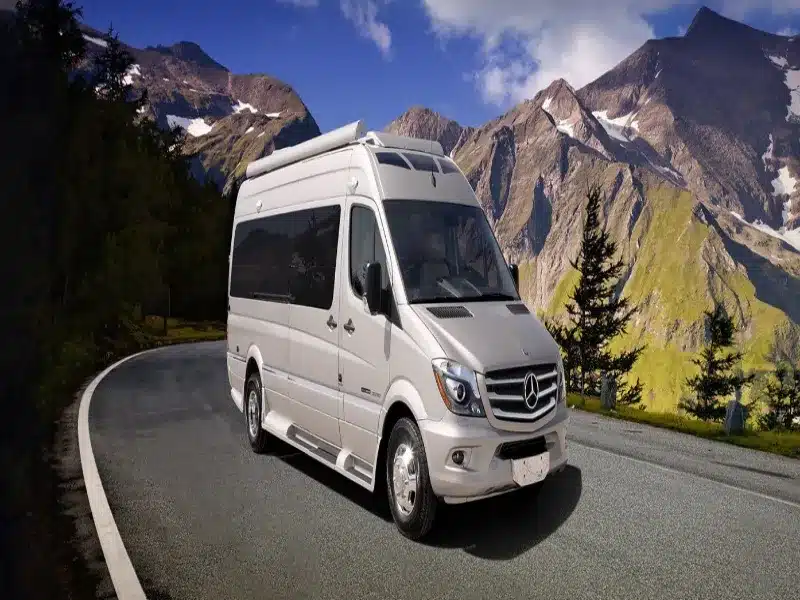 Regarding fuel efficiency in RVs, one type stands out: the Class B motorhome. Known for being lightweight and compact, these vehicles offer similar mpg ratings to classic cars. However, the Roadtrek RS Adventurous takes the cake for the most fuel efficient RV.
This camper van has a simple yet functional layout perfect for those who want to travel light and enjoy the open road. It can comfortably sleep up to 2 people and has 3 sofas, 2 tables, and various chairs.
A wet bath, a closet, and a decently sized kitchen make it a great option for couples or solo travelers.
What makes the Roadtrek RS Adventurous so fuel efficient? It's all thanks to its efficient engine and lightweight design. On average, this motorhome gets around 20 mpg, but it can reach up to 24 mpg under ideal conditions.
That means you'll be able to travel longer without worrying about frequent stops to refuel.
For those looking to make the most of their travel budget, the Roadtrek RS Adventurous is a top choice. With its exceptional fuel efficiency, you'll enjoy the sights and sounds of the open road without breaking the bank.
So what are you waiting for? Plan your next adventure today and hit the road in this sleek and efficient motorhome.
American Coach Patriot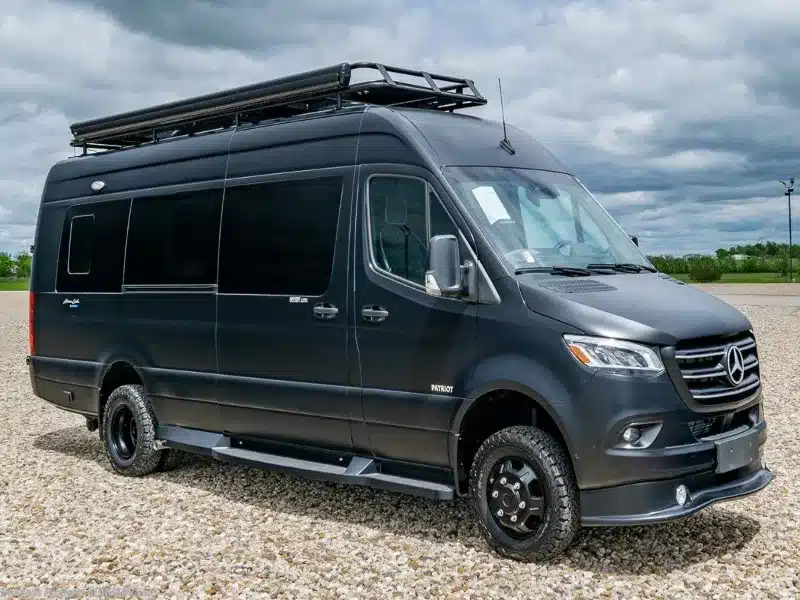 The American Coach Patriot is a Class B RV luxury and the latest accessories. With a rooftop solar charging system and 20 miles per gallon fuel efficiency, this vehicle is perfect for those who want a smaller vehicle with much to offer.
Its features include a shower, lounge, wardrobe, and space for small kitchen appliances.
Coachmen Beyond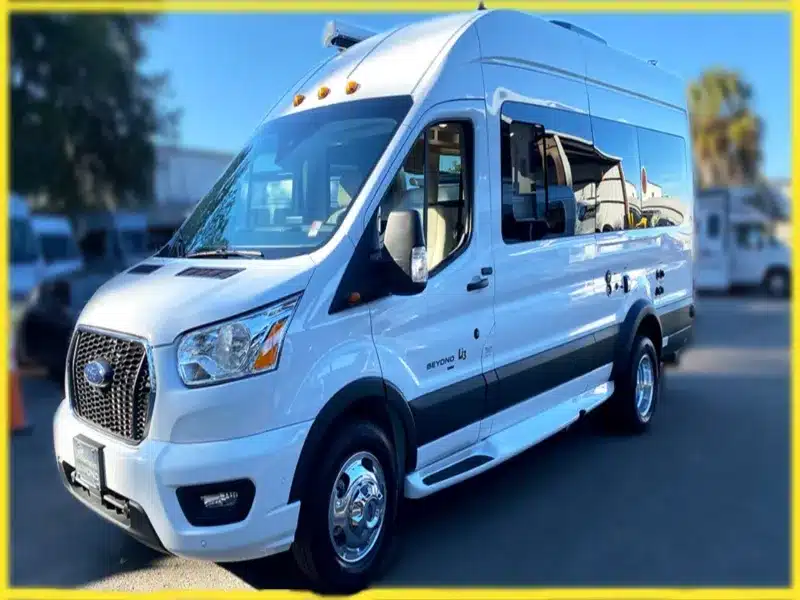 Coachmen Beyond is a Class B RV suitable for anyone with an active lifestyle. It has a bed or sofa, bath, sink, shower, galley, and frameless windows, providing stunning views.
The vehicle runs on a Ford chassis and can get 18 miles per gallon on long trips.
Coachmen Nova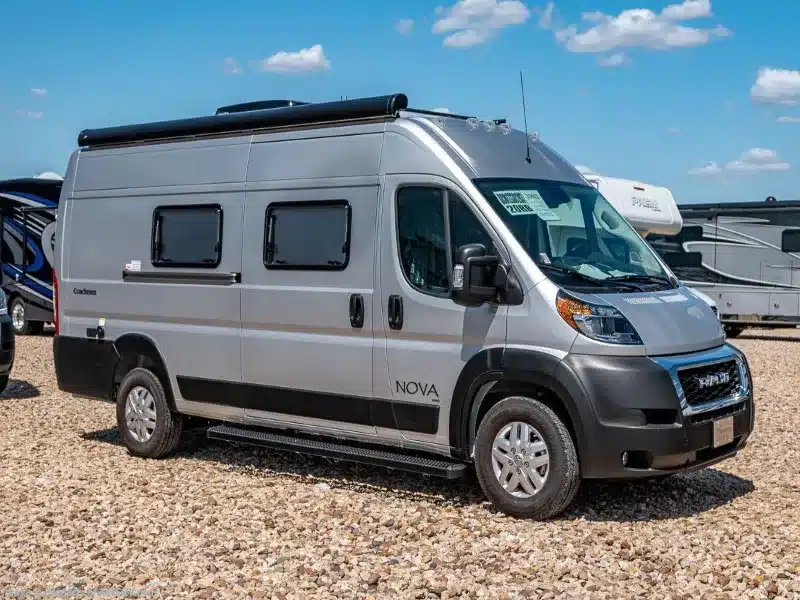 If you're heading out on an adventure in the great outdoors, the Coachmen Nova can take you there. This Class B RV is another highly efficient vehicle that can get 18 miles per gallon on the highway.
A RAM Pro Master chassis power it, comes with a bath and shower, a full kitchen, and is solar power-compatible.
Midwest Automotive Design Passage 170 Ext MDP4 Lounge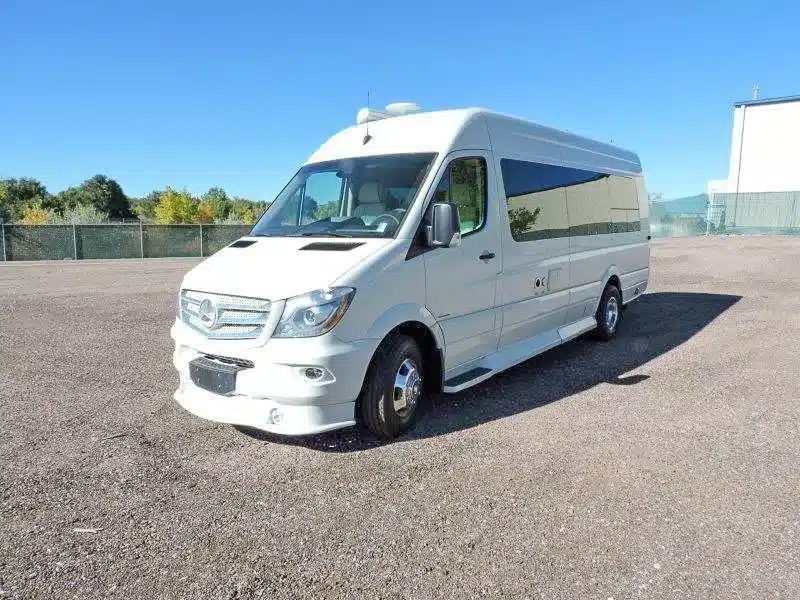 For RVers looking for a balance of comfort and style, the Midwest Automotive Design Passage 170 Ext MDP4 Lounge is an excellent option.
This vehicle runs about 18 miles per gallon and offers plenty of style elements. It has a fold-out lounge sofa, an accessorized kitchen, HD TV and WiFi, and elegant furnishings.
Winnebago Revel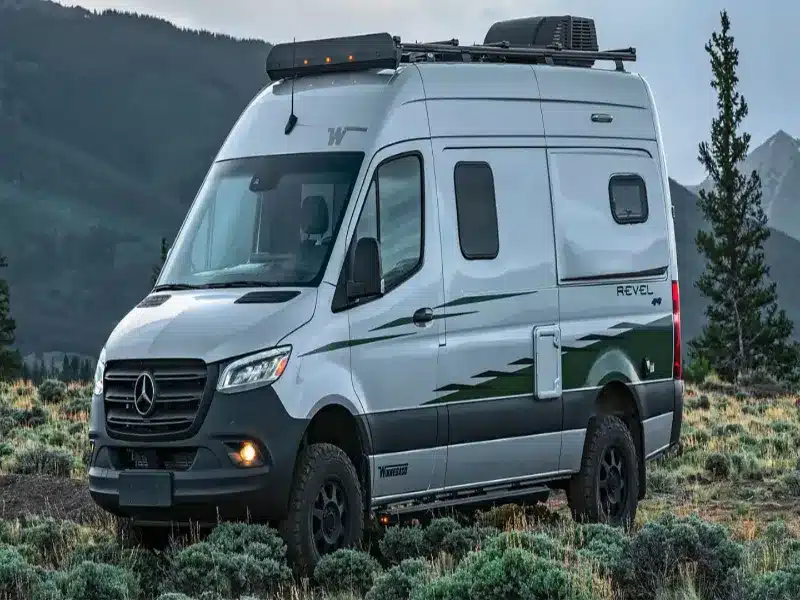 The Winnebago Revel boasts impressive fuel economy, achieving up to 18 miles per gallon on the road. But that's not all; it also comes with a four-wheel drive and Mercedes-Benz Sprinter chassis, making it ideal for off-road enthusiasts.
Plus, it has a solar power system, allowing you to venture wherever you please without worrying about draining your battery.
Additionally, it features a bed, wet bath, and kitchen, ensuring you can comfortably live off-grid for extended periods.
Winnebago Rialta 22QD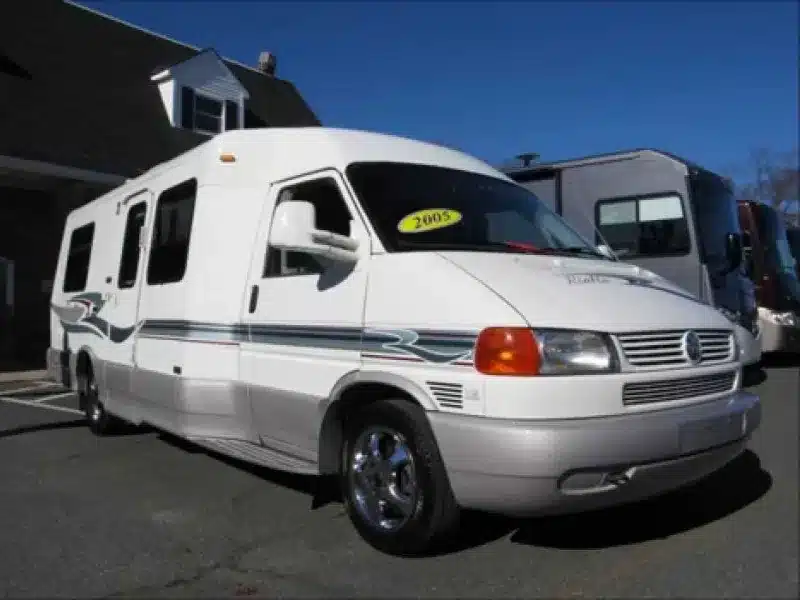 The Winnebago Rialta 22QD is an older model, but it's tried and true regarding fuel efficiency. You'll save significantly on gas expenses with a tank that gets nearly 22 miles per gallon.
Aside from being an excellent option for budget-conscious adventurers, this model is also compact and agile, suitable for navigating tight spaces. The interior has been thoughtfully designed to include small kitchen accessories, a dining table, a restroom, and a bed.
Overall, the Winnebago Rialta 22QD is an efficient and versatile choice for those seeking an affordable option for their next road trip.
The most fuel efficient RV Class C
Balancing gas mileage with interior living space and comfort is important when choosing an RV. In this regard, Class C RVs are the ideal option. These RVs offer a good balance between fuel efficiency and comfortable amenities.
There are several great options if you're looking for the most fuel-efficient Class C RVs. Here, we'll highlight some of the most fuel-efficient models, all capable of averaging between 14 to 18 miles per gallon.
Tiffin Wayfarer 25 TW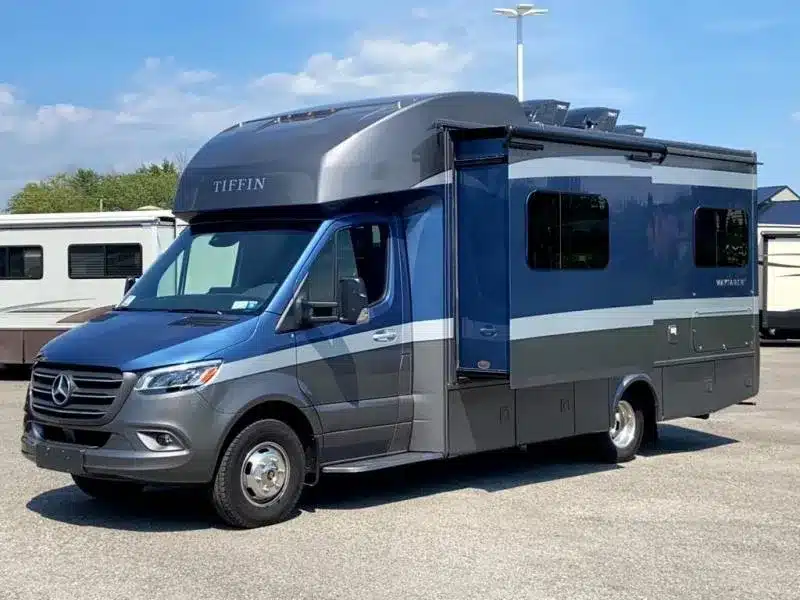 When finding a fuel-efficient RV, the Tiffin Wayfarer is an excellent option, providing an average of 14 miles per gallon.
But this RV is more than just fuel-efficient; it also offers a spacious and comfortable interior, with the ability to sleep, with multiple people. It has the highest sleeping capacity among the most fuel-efficient Class C RVs.
But what sets the Wayfarer apart is its high-performance Mercedes-Benz chassis, which includes exceptional safety features.
With lane-keeping assist, attention assist, collision prevention assist, and load-adaptive electronic stability control, drivers can feel confident and secure while driving through any terrain, even winding roads in national parks.
Inside the RV, the thoughtful design continues with two twin mattresses that can easily convert to a plush king-sized bed, making for a cozy and comfortable sleeping experience. There is ample storage space, including a five cubic-foot refrigerator to keep perishables fresh.
In addition to these features, plenty of small touches make the Wayfarer an even more enjoyable experience.
For example, a height-adjustable shower head provides a personalized shower experience, while privacy shades on all windows offer peace when needed. And with a power awning that includes built-in wind sensors, this RV has it all.
Ultimately, the Tiffin Wayfarer is an excellent choice for anyone looking for a fuel-efficient, high-quality, and comfortable RV experience.
Winnebago View 24D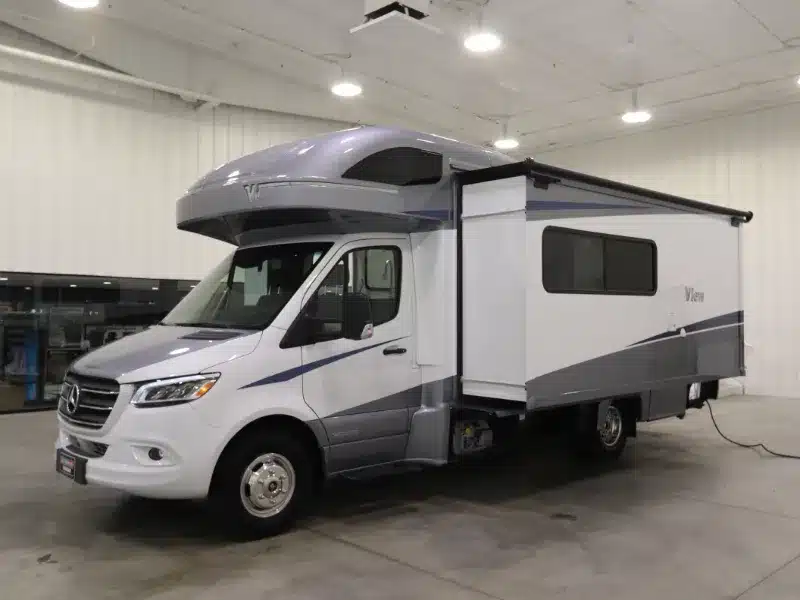 If you love hitting the open road but want to save money on something other than gas, the Winnebago View Class C RV might be the best option. It's built on a Mercedes Benz Sprinter chassis, which makes it one of the most reliable RVs in the market.
Moreover, it offers a fuel efficiency of around 16 miles per gallon, so you don't have to worry about gas expenses.
The Winnebago View Class C RV boasts a luxurious yet compact design. It provides one of the best amenities in the industry, making it the perfect option for solo travelers or families.
The cockpit has an interactive voice interface for navigation, a WiFi hotspot, and various other features to make your drive as comfortable as possible.
Once you park and are ready to relax, the 24D floorplan offers an optional entertainment package, including theater seating and a media center that will keep you up-to-date on your favorite shows, sports, and news.
Moreover, the Winnebago View Class C RV has innovated to provide one of the most comfortable sleeper decks in the industry. It's thermally and acoustically insulated, ensuring a peaceful sleep for anyone who rests there.
Overall, the Winnebago View Class C RV provides a perfect solution for people who want to explore the world while keeping their gas expenses down. Its compact design, luxurious amenities, and fuel efficiency make it an ideal choice for anyone who loves hitting the open road.
Winnebago Porto 24F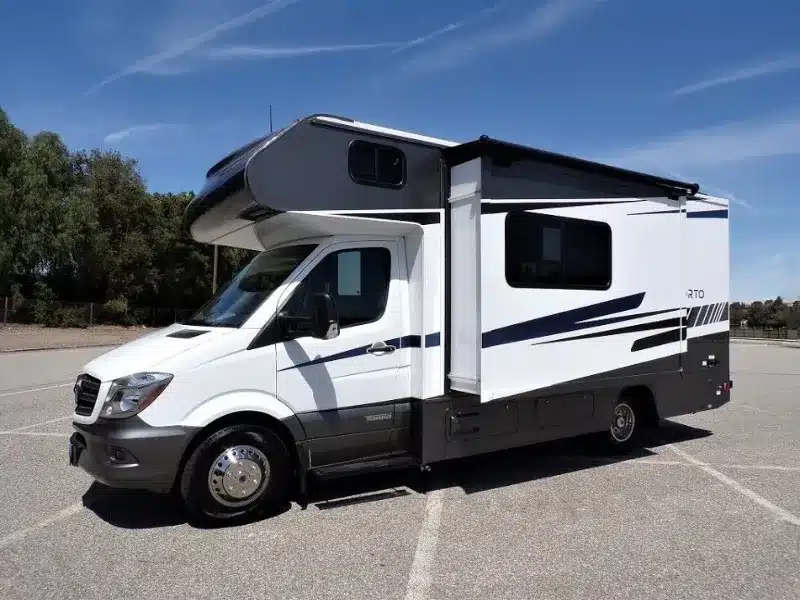 If you're looking for a fuel-efficient RV that's both graceful and spacious, the Winnebago Porto is worth considering. This Class C RV is compact, measuring under 25 feet in length, but offers a surprising amount of interior living space and sleeping capacity for a family of four.
The Winnebago Porto is renowned for its fuel efficiency, averaging between 16 and 18 miles per gallon. This makes it a cost-effective choice for those who enjoy traveling and camping but don't want to break the bank on fuel expenses.
Additionally, the Porto boasts an impressive storage capacity, with up to 1,810 pounds of room for personal items, camping gear, and other accessories.
Inside the RV, the lounge area is versatile and comfortable, with swiveling cockpit seats facing toward the back of the rig. You can add theater seating to the lounge area for even more comfort.
And with the largest battery bank of any Class C RV, you can rest assured that you'll have plenty of power to keep your devices and lights on.
Finally, the Winnebago Porto has up to 475 watts of solar panels, ensuring you won't run out of power on those extended camping trips.
So whether you're a solo traveler or a family of four, the Winnebago Porto is an excellent choice for an efficient, comfortable RV that can take you on all your adventures.
Thor Motor Coach Tiburon Sprinter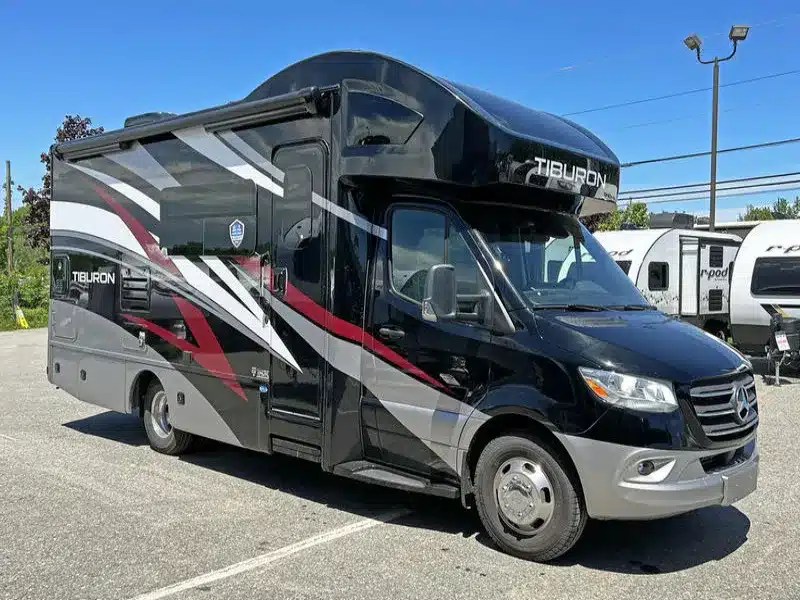 Are you searching for an RV that offers the best of both worlds? Look no further than the Thor Motor Coach Tiburon Sprinter. This model is a perfect compromise between Class A and Class B campers, making it a top pick for those who need help deciding between the 2.
One of the standout features of the Tiburon Sprinter is its impressive fuel efficiency.
Despite its considerable size and weight, it boasts similar gas mileage to a Class B motorhome, getting around 20 mpg in the city and up to 29 mpg on the highway. It's the most fuel-efficient RV, even among larger gas guzzlers.
But the Tiburon Sprinter isn't just efficient and spacious, and comfortable. This model offers ample living space with 2 slide-outs, a dry bath, a kitchen, theater-style seating, and a booth-style dinette.
The bedroom includes a flip-up full-sized bed and a wardrobe, providing storage for longer trips.
Overall, the Thor Motor Coach Tiburon Sprinter is a great choice for those seeking a fuel-efficient, versatile, and comfortable RV for their next adventure.
Coachmen Leprechaun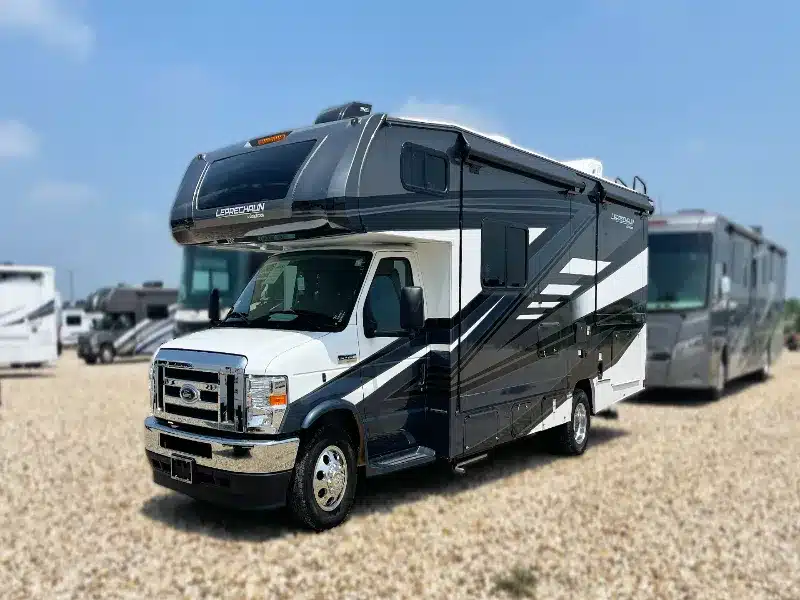 The Coachmen Leprechaun is a Class C RV in production since 1973. With a fuel economy of 10 miles per gallon, it provides a spacious interior with crafted cabinetry and flooring, a queen-sized bed, and a full kitchen.
The power awning and backup cameras make it easier to travel and park.
Gulfstream Conquest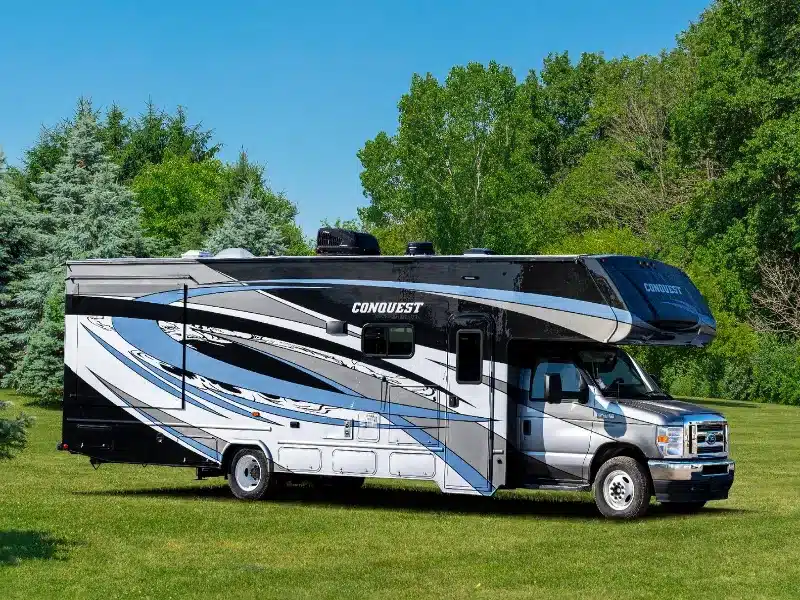 The Gulfstream Conquest is the perfect fit if you have a large family.
With a fuel economy that matches the Coachmen Leprechaun at 10 miles per gallon on the efficient Ford platform, it comes with multiple sleeping spaces, a wardrobe, a restroom, a dinette with a fridge, an entertainment space, and a skylight.
Toyota Dolphin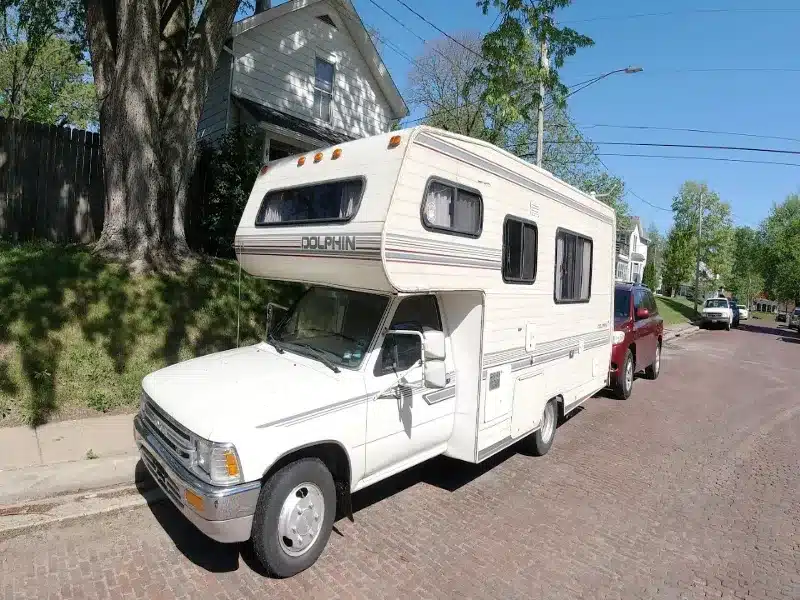 For those who prefer a retro-style RV, the Toyota Dolphin is an excellent choice. Though it may not be as spacious as some other RVs, it has an impressive fuel economy of up to 16 miles per gallon. It also comes with overhead sleeping space, restroom amenities, kitchen space, and room for camping gear.
Winnebago Navion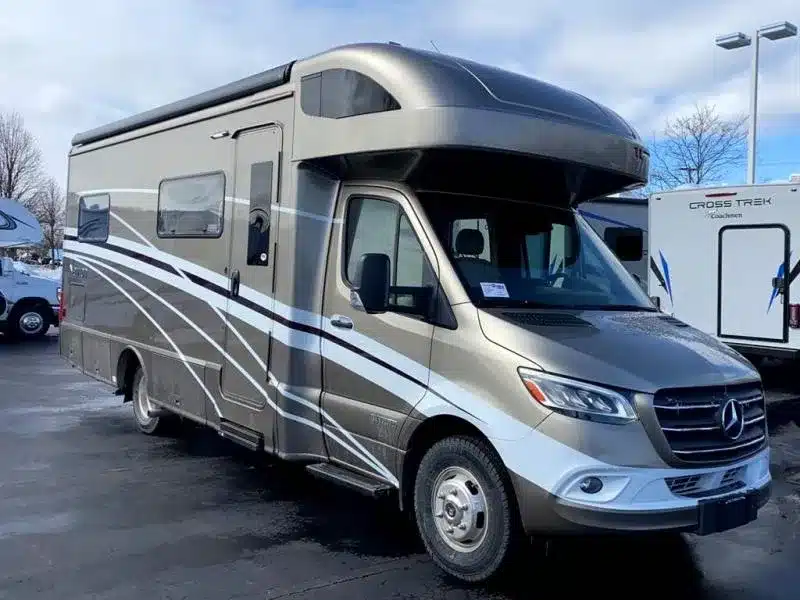 The Winnebago Navion combines comfort with upscale amenities, making it a top choice for all RVers. This diesel Class C can achieve up to 18 miles per gallon on the highway to take it out for longer trips.
Additionally, it has a solar power option if you decide to camp for several days.
The Most Fuel Efficient RV – Why Should I Choose It?
When choosing an RV, fuel economy is an important factor, but it may not be the only one. You may prioritize other features over gas mileage, depending on your needs and preferences. Here are common reasons you might choose an RV with lower fuel efficiency.
Larger Living and Sleeping Space
One of the main reasons RVers opt for larger, less fuel-efficient rigs is the need for more interior space.
Class A and Class C RVs are typically larger than Class B vans, offering more room for living and sleeping. However, this additional space translates into more weight, which can lower fuel economy.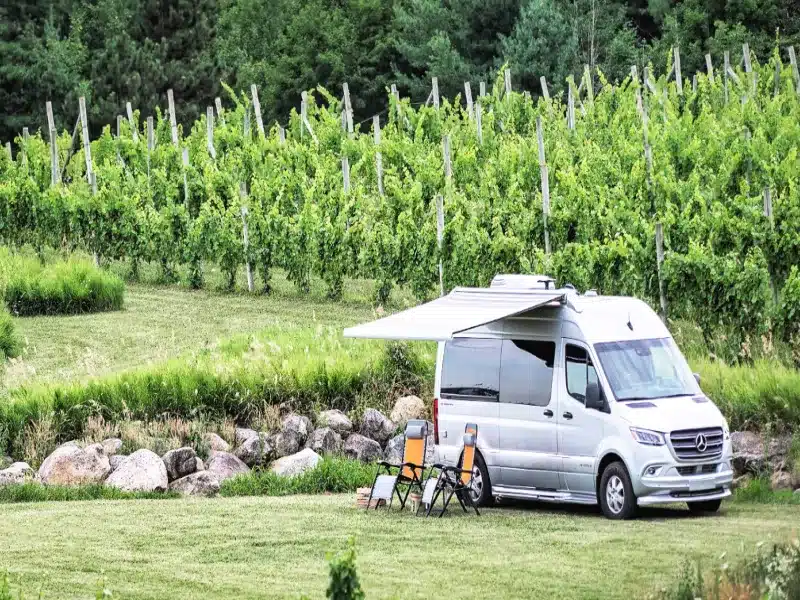 For families or groups of travelers, having ample interior space can make a big difference in comfort and convenience. If you plan to spend a lot of time inside your RV, having enough room to move around, relax, and sleep can enhance your overall experience.
While you may spend more on gas, the benefits of a spacious RV may outweigh the costs.
Residential-Style Amenities
Another reason why RVers may choose a lower fuel economy is to enjoy the comforts of home on the road. While some of the most fuel-efficient RVs may lack certain amenities, such as a functional restroom or a fully equipped kitchen, larger RVs often come with a full range of residential appliances and features.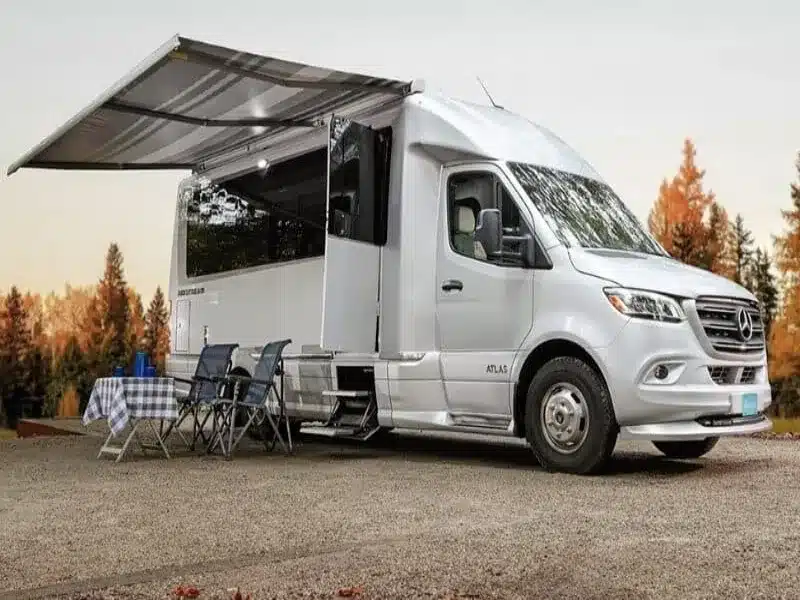 For example, you may prefer a shower, toilet, and sink in your RV rather than relying on campground facilities. Or, you may want a large refrigerator, oven, and stove to prepare and store your meals rather than relying on fast food or restaurants.
By choosing an RV with a wider range of amenities, you can create a home-away-from-home that meets your needs and preferences.
Better Towing Capacity
If you plan to tow a second vehicle or trailer, you may need a more powerful RV to handle the extra weight. Diesel pusher RVs, typically larger and heavier, are well-suited for towing, offering more torque and horsepower.
While towing can decrease fuel economy, having the ability to tow a boat, car, or another recreational vehicle can enhance your travel options and experiences.
Whether you choose a fuel-efficient or less fuel-efficient RV, it's important to consider your specific needs and goals. You can find an RV that fits your lifestyle and budget by balancing fuel economy with other features, such as size, amenities, and towing capacity.
The Most Fuel Efficient RV – How To Choose?
Many travelers are turning to the RV lifestyle to explore new destinations. However, the fuel cost can be a concern for those who want to save money on their travels. Fortunately, there are ways to make your RV more fuel-efficient.
Class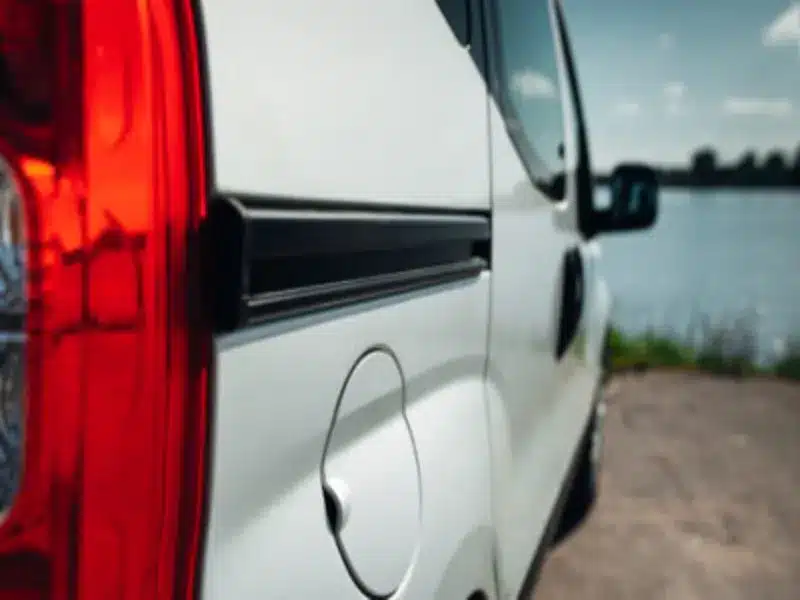 Vehicle class is one factor that greatly affects RV gas mileage. Large Class As and Class Cs are less efficient due to their size, weight, and shape, whereas smaller Class Bs have impressive gas mileage that rivals SUVs or pickup trucks.
Fuel Types
Another factor to consider is the type of fuel your RV uses. Gasoline is cheaper than diesel per gallon, but diesel engines are typically more fuel-efficient, saving you money in the long run.
Additionally, many RV manufacturers are introducing electric-powered RVs, which could be the industry's future.
Weight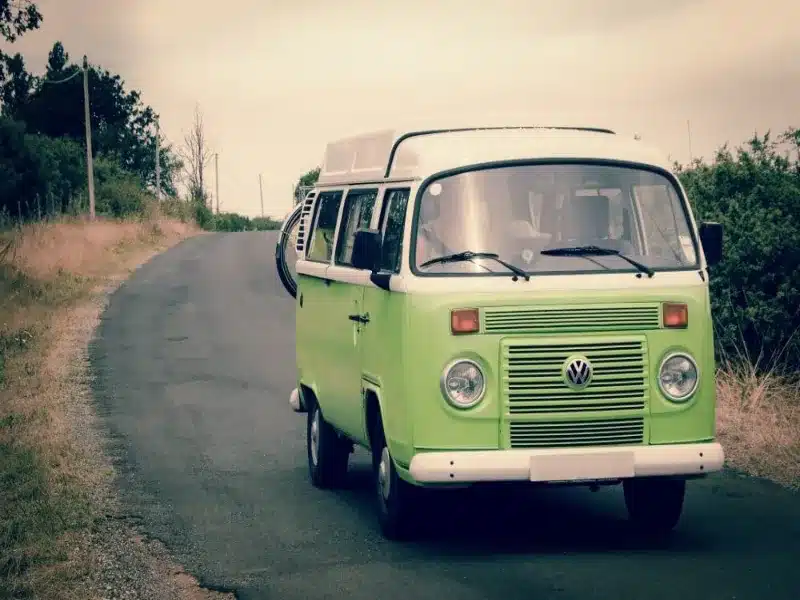 Weight also plays a major role in your RV's fuel efficiency. Heavier vehicles use more fuel, and manufacturers use materials that can make a difference in weight.
Choose lighter models that use fewer materials in their construction. However, be mindful of slide-outs; they provide more living space but add weight to the RV.
Aerodynamics
The aerodynamics of your RV can greatly impact its gas mileage. Look for models with rounded front caps, which help reduce drag and improve fuel efficiency. Alternatively, some models have a more curved design that minimizes the boxy shape of traditional RVs.
By keeping these rules in mind, you can save money on fuel while enjoying the freedom and adventure of the RV lifestyle. With the advances in the industry, the future of RVing looks bright, as new models with improved fuel efficiency are being introduced every year.
The Most Fuel Efficient RV – Tips For Getting Better Fuel Efficiency In Your RV
If you're looking for a fuel-efficient RV, several options are available. However, some factors might affect the gas mileage of your rig, such as the size, weight, and engine type. But don't fret; there are ways to optimize your RV's fuel consumption.
These small tips can significantly affect your gas expenses, allowing you to travel longer without breaking the bank. So, whether you choose a small, compact RV or a larger model, you can still enjoy your road trips while getting the best gas mileage possible.
Keep Tire Pressure Optimal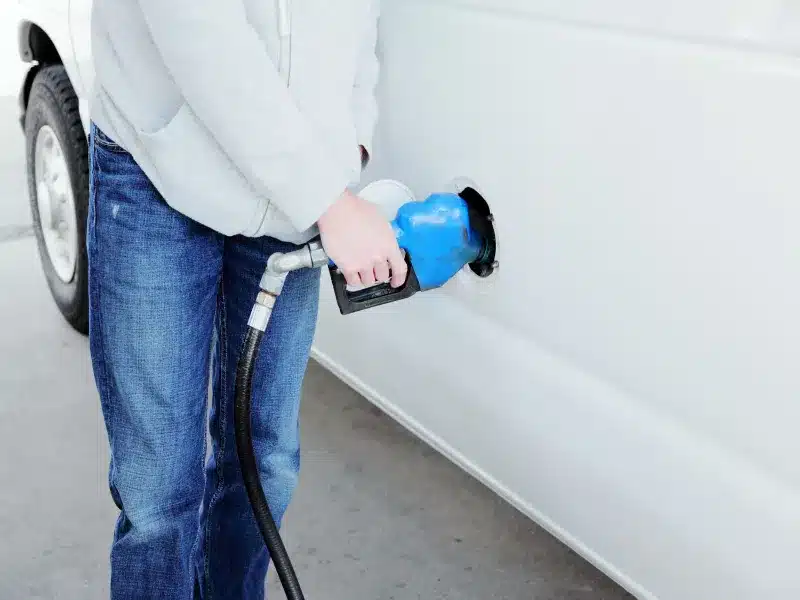 One of the most important things you can do is to maintain the recommended tire pressure. The recommended tire pressure can be found on a sticker inside your RV, either next to the entry door or in the cockpit. Using the recommended tire pressure can significantly impact your fuel economy.
It is important to note that the recommended tire pressure displayed on the RV's sticker differs from the tire pressure indicated on the sidewalls of the tires.
This is because tire manufacturers create tires designed to work with various vehicles, but your RV manufacturer knows what is best for your specific RV model.
While it may be tempting to inflate your tires to a higher pressure to increase your fuel economy, we recommend following the tire pressure specified in your RV owner's manual or on the sticker.
This ensures that all your tires are filled to equal pressure, which is important for safety and handling.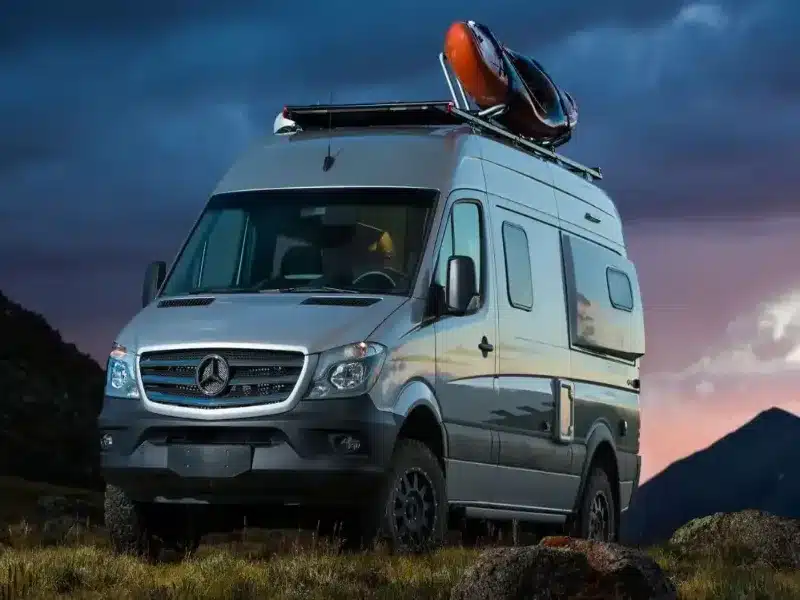 Overall, maintaining the recommended tire pressure is one of the most effective ways to increase the fuel efficiency of your RV. By following the guidelines from your RV manufacturer, you can enjoy a more efficient and cost-effective journey on the road.
Become A Minimalist When Packing
One way to improve your fuel efficiency is to consider what you bring with you on your trip carefully. While packing everything and the kitchen sink is tempting, every additional pound of weight will negatively impact your gas mileage.
If you plan on staying in one place for an extended time, rent gear like kayaks or bicycles instead of bringing them along.
Of course, fuel efficiency isn't the only factor to consider when choosing an RV. Many types of RVs are available, each with pros and cons.
For example, a class B RV is typically the most fuel-efficient option, but it can be cramped and uncomfortable for larger groups. A Class A RV, on the other hand, offers plenty of space and amenities but can be extremely expensive and difficult to maneuver.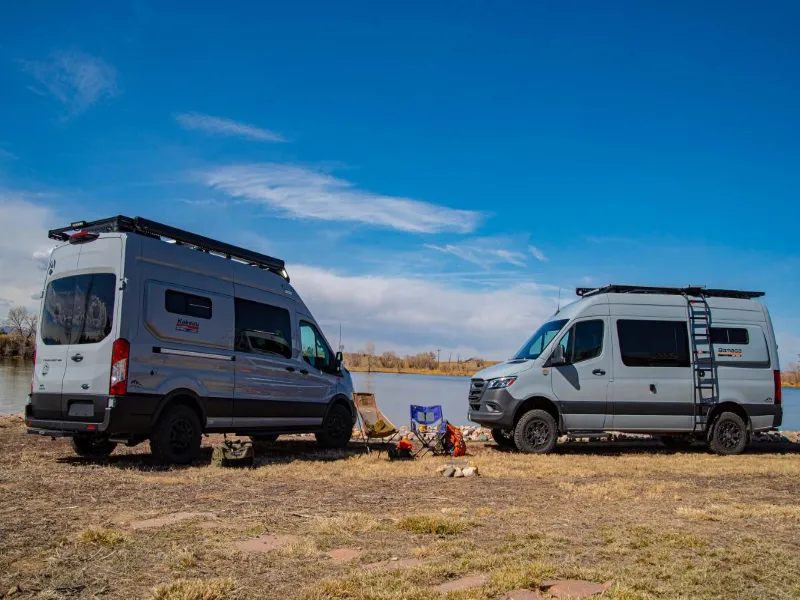 Ultimately, choosing the most fuel-efficient RV for your needs will require careful consideration of your budget, travel plans, and personal preferences. However, by taking the time to research and make informed decisions, you can help ensure that your next RV trip is both comfortable and cost-effective.
Check And Change The Engine Air Filter
Maintaining the health of your RV's engine air filter is vital to ensure it is the most fuel-efficient. As a rule of thumb, checking the status of your filter whenever you change your oil and oil filter is a sound practice.
If you observe that your filter is obstructed or light cannot pass through it, it is necessary to replace it immediately.
Your RV's engine relies on a steady supply of clean air from the air filter to perform at its best. A blocked filter reduces airflow and consequently decreases the engine's performance.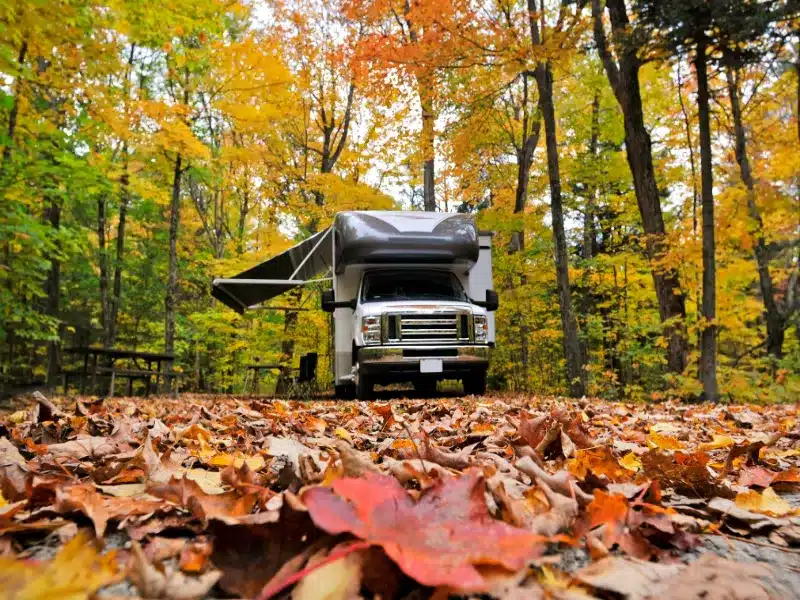 Neglecting air filter maintenance can lower your RV's fuel efficiency, causing it to consume more fuel and cost you money in the long run. The financial implications of ignoring the problem exceed the cost of a new air filter.
If you are still determining what a dirty air filter looks like, a mechanic will happily show you during your next routine RV service. Keeping your air filter in top condition guarantees higher fuel efficiency and a smoother-running RV.
Maintain The Engine And Transmission
One crucial factor that affects fuel consumption is the engine and transmission condition. Regular maintenance, such as fluid checks and replacements, tire rotations, and differential services, can significantly improve your RV's fuel economy.
To determine which maintenance tasks are needed, refer to your RV's owner's manual, which provides a comprehensive guide on maintenance schedules based on the odometer reading.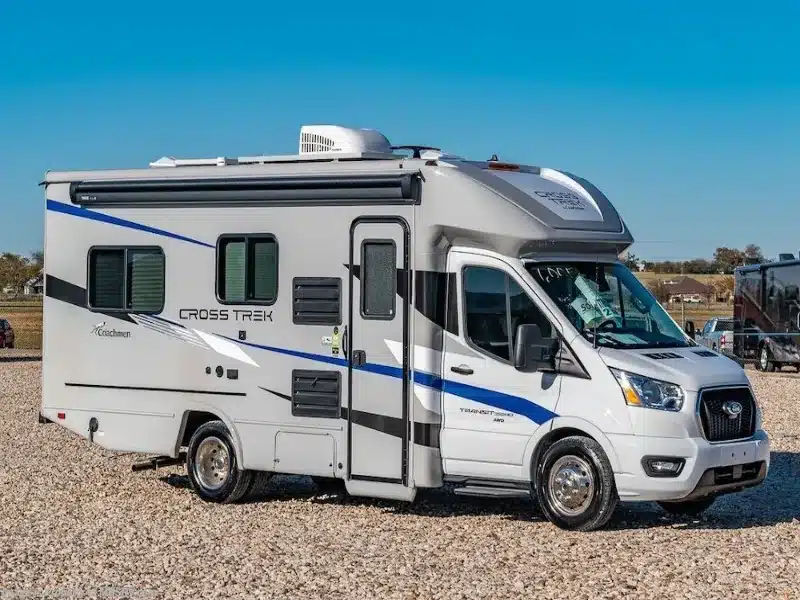 It's also worth noting that how you drive your RV can also affect its fuel efficiency. Ensure you avoid aggressive driving, maintain a steady speed, and avoid excessive idling to maximize your RV's fuel economy.
Overall, keeping up with maintenance and conscientious driving can help you save on fuel costs without compromising your travel adventure.
Conclusion
Consider a few things when choosing the most fuel-efficient RV for your next adventure. The size and type of vehicle will play an important role in determining how much gas mileage you can get out of each tank.
Additionally, aerodynamic design, weight reduction technology, and advanced engines can contribute to improved fuel economy. With careful research into these factors, you'll be well on your way to finding the perfect RV that offers both performance and efficiency for your travels ahead!